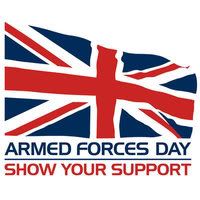 I thought it would be a good idea to tie our auction in with Armed Forces Day (30th June)
Hopefully we'll be auctioning 8 lots over the next 4 weeks (those in blue are still subject to confirmation)
I am hoping that for the duration of this auction guests will be able to bid. If not, anyone wishing to place a bid will first have to become a member. Any problems, give me a shout
To find your way, go to the blue navigation bar and click on "auction"
Anyone selling/buying knives/blades must be over 18 years of age.
We may request proof by email e.g scanned driving licence/passport
Please read the item's description as it will include all the details regarding payment/postage (proceed of sale to sos, postage costs to seller etc)
Below is the list of items to be auctioned – It could change as people may wish to add to it. Special thanks to all those kindly donating to the auction
25th June - 02nd July
Mike Bowler - Bushcraft knife blade
SteveO - Handmade walking stick
Vermont -Briar Burl scales
02nd July - 9th July
Gary Mills - Timberwolf Knife
Expat - 1 USGI belt with 2 water bottle pouches + 2 stainless steel cups (no bottles)
09th July - 16th July
Culloch - Aussie Red Jarra Burr scales
Mammoth - Stabilising above scales, liners, handle bolts
16th July – 23 July
irbailey - Loveless style City knife
Wolf - Leather keyrings
Support Our Soldiers
is a not for profit charity - there are no paid staff, all are volunteers and only the very minimal expenses are claimed in order to provide the maximum assistance to our Troops and their families.
is one of only three groups that is fully authorised and endorsed by the MOD to send morale boosting care parcels to both male and female personnel serving overseas and do so all year round.

was formed in 2003 by 2 mums who each had a son serving in the Army, it was granted Charitable status in 2007 and is now a Registered Charity.
also supports the Aeromed Team in Afghanistan, other Military Charities (such as BLESMA) and has provided rehabilitation equipment to Headley Court.
is in need of corporate monetary sponsorship to help with diversification - helping the young home-based troops and their families, the injured and ex-service personnel.
EDIT TO ADD: As Derby Area Coordinator, any donations raised will also go towards helping my front room look like this
It took a couple of weeks but this lot has all been sorted and cleared. In fact, we can move again as we're box free (until I start again next week)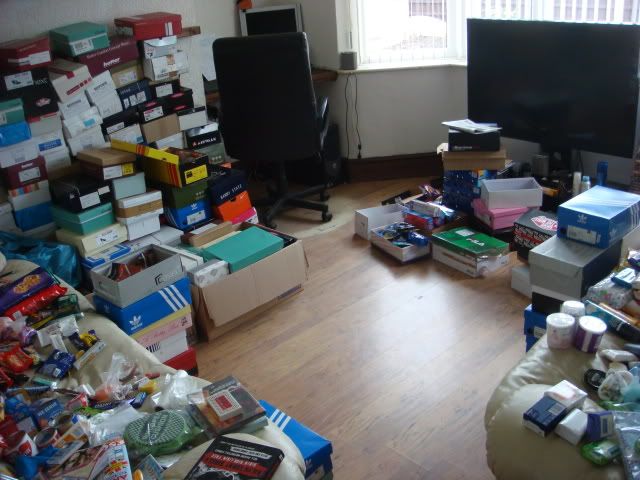 Anyone know of a large house going spare? Preferably mansion size?