Reading a lot of threads (not just here...) I hear large blades called different names.
I am talking about machete, parang, panga, golok etc.. etc..
As far as I can make out, these are actually names for basically the same thing -
a largish, agricultural hand cutting (maybe I should have said hand-cutting..
)
tool.
F'rinstance, this and anything of a similar size is known as a Parang in Indonesia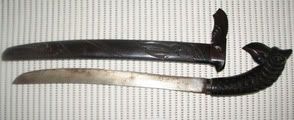 As is this.....

While this - almost exactly the same length - is known as a Golok (or Panga) in
the Phillippines...
And I can't for the life of me remember what the locals call these
(almost identical to the Indonesian Parang) but they are from Thailand...
Not trying to start any wars here, all I am saying is that these are all "local" names
for what is basically the same thing.... a forking big farmers knife.......
Discussion only - no punching, kicking or scratching........